Analysis
Dalian Pro vs Tianjin Teda
Due to the superior technical quality of Benítez's team, Dalian Pro should have, in this first leg, the biggest initiative, against a more expectant Tianjin Teda, but without great arguments in terms of defensive consistency to overcome the competition.
Thus, a match is expected where Dalian will create more and better opportunities, in a game with several occasions in the overall calculation, although it is difficult for Tianjin Teda to reach the second leg with an advantage.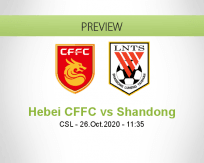 Hebei CFFC vs Shandong Luneng
The two teams arrive at this match after being eliminated in the quarter-finals, so they will now discuss the decision from 5th to 8th places.
Hebei lost, but has already stamped it's goal, which was to secure the maintenance, while Shandong Luneng lost the possibility of getting through to the Champions League through the championship.
Both teams now have nothing to lose, so they should try to play the game for the game's sake, providing a match that is expected to be open and with goal opportunities from both sides.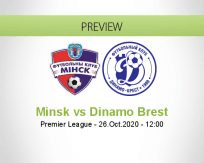 Minsk vs Dinamo Brest
Minsk wants to score, so at home it is important to show good football. They want at least one point, but they will not find any slack. We expect a truncated game and with a lot of marking. We bet that there will be no more than 3.5 goals in the match.
See all previews